Yoga MariSol
Online Yoga classes
POP UP YIN YOGA CLASSES VIA ZOOM
Enjoy our special Yin Yoga classes from the comfort of your home online via Zoom. The classes are tailored to focus on certain organs and meridians for emotional and physical well-being. There is also a recording of the practice if you can't make the time and you will have access to practice the class multiple times.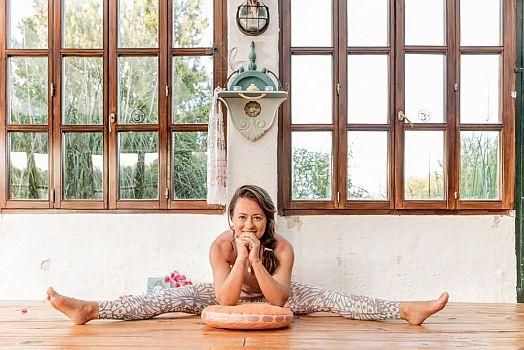 CHAKRA YOGA BUNDLE (bonus YOGA NIDRA)
You can purchase 4 prerecorded Yin Yang Yoga classes, each one focusing on one of the first 4 Chakras (Root – safety and stability, Sacral – creativity and sexuality, Solar plexus – empowerment, Heart – love and compassion). The bundle comes with a bonus Yoga Nidra that was recorded in the jungle of Costa Rica.
Our Yoga Style
At Yoga MariSol we love to work with the subtle body as well as focussing on the connection to the elements. We often combine Yin and Yang elements for a balanced practice. 
If you would like to get more information about Yin & Yang Yoga, you can find it here. If you are pregnant we recommend reading the prenatal page before.
Online Yin Yoga Offerings
There are no pop up yoga classes scheduled at the moment. Please sign up for our Newsletter if you would like to be informed when the next offering is published. You can also purchase our Chakra Yoga bundle here which you can practice whenever and as often you like.
I have been doing Yoga with Maria since 2018 and find my classes with her to be my weekly highlights. I especially love the year round outdoor classes on the beach, which really gives me an opportunity to connect with myself and the powerful nature around me. I always feel fantastic after every class and can feel the benefits of doing regular yoga on my body on a daily basis.
The most important reason that I keep going to Yoga MariSol is her strong sense of community and her kind hearted spirit. I feel very fortunate to have crossed paths with Maria those few years ago because doing yoga has been a delight ever since.
Yoga with Maria is my special highlight of each week. For me it's the perfect mixture of spirituality, strength and flexibility. I love how Maria describes every movement, so I can keep my eyes closed the whole class. And I need to say that I am so deeply grateful for her daily online classes during the 3 months lockdown. She kind of saved me in this time. And until today I never felt so grounded and connected to Mother Earth since then .
I have started with Maria's yoga classes in 2018 and I love them. I love the flow and energy of her classes. You can join as a beginner as she gives variations for everyone, but the classes are also challenging and you certainly won't get bored even if you are an advanced Yogi. I can't stop practicing as it is what my body needs. Her classes make me feel relaxed, light and full of energy. I can recognize positive changes in my body.
Maria is a lovely person and very professional in what she does. You can tell she loves it and she is really great at teaching. I also love the idea of outdoor classes. I'm such an outdoorsy & nature person and nothing is more fantastic then a morning flow with Maria on the beach.
Get my FREE Yoga Nidra for deep relaxation.
Feel more relaxed and balanced with Yoga Nidra. Yoga Nidra is an amazing tool to regulate the nervous system and feel a deep sense of relaxation. I have recorded this Yoga Nidra in the Jungle of Costa Rica to bring some inner peace to you. Subscribe to my newsletter and get my FREE Yoga Nidra for deep relaxation.